As the holiday season continues here in Magnolia Texas, we at Prodigy Insurance want to encourage families, friends, and individuals to take part in some of the many holiday activities and traditions offered by local communities in our area. Participation in these fun and pleasant activities will help people to get more from this wonderful time of year and to enjoy and interact with others in this great community.
One of the main reasons (excuses really) why people do not get out and participate in one of the many holiday activities and events put on by the community is simply because they may not know about them. To eliminate this as a legitimate excuse and to promote participation in local events, we have decided to give a simple sampling of the kinds of holiday events and activities that people can join in this year.
• Events at the George and Cynthia Woods Mitchell Branch of the Montgomery County Library will be happening all through the holiday season. One event of interest for parents of young children include story time readings of holiday stories Dec. 10 and 11 at 10:00, 10:30 & 11:00 AM (for ages birth - pre-school), and 1:30 PM for Story Club (for ages 4 and up).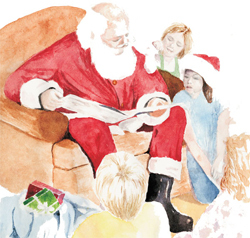 • One of the main attractions of the season will be the Ice Rink in the Woodlands Town Center. Open daily for visitors, the Ice Rink can be a fun activity for the entire family to enjoy the winter and holiday season.
• Santa's elves will be instructing children how to play hand bells at the Creekside YMCA on Saturday, December 14. The free classes will be from 12:00 noon to 2:00pm and will provide bells and other equipment.
These are only three of the many different local holiday activities that families and individuals can participate in this year, so get out there and have a festive, fun, and safe, holiday season with the community.