National Umbrella Month: Umbrella Insurance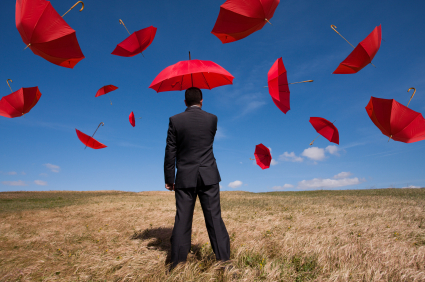 Umbrella insurance may be a term that you have heard when discussing insurance policies, but do you really understand what umbrella insurance is? Here's a clue, it has nothing to do with umbrellas.
Umbrella policies are liability-type policies that will protect the assets and even the future income of the policy holder above and beyond the limits that are set forth in the primary policies. The reason that umbrella policies were given this name is becomes the coverage of an umbrella policy extends much farther than primary coverage. So, when is this type of coverage necessary?
One of the most common uses of umbrella insurance comes when the insured is sued. If you are sued, even if the lawsuit is ridiculous, you will still have to defend yourself. Defending yourself can cost a lot of money and if you are found to be guilty, you may end up owing a lot of money that you just do not have.
Although there are many other instances in which umbrella insurance can be used, it is most commonly used when you are liable for damage that has occurred. Sometimes, that damage is totally out of your control.
Umbrella insurance is definitely a personal choice and there are many instances in which umbrella insurance makes complete sense. If you are on the fence about umbrella insurance, come in and talk to us today. We can help you decide if umbrella insurance is a good financial choice for you and your household.